Back
Power Giant LU-2 Winch Number Identification
57-60 Dodge W100-W200s and 58-60 W300s used the Braden LU2 PTO driven winch when they were ordered with the factory winch option.
This page should help you determine if your winch was original to your truck or not, based upon the winch extensions, and the winch numbers.
From what I can tell, the Braden LU2 was the only winch Dodge used on 57-60 W100-W200 and 58-60 W300 trucks. In the 60's Dodge used MU3s or MU2As on W300s as an option, but I have never seen evidence of this being done on 58-60 W300s
Here are some pictures of how the frame extensions should look on 57-60 Dodge trucks with a factory LU2.
This is a 1957-1960 W100-W200 LU-2 winch setup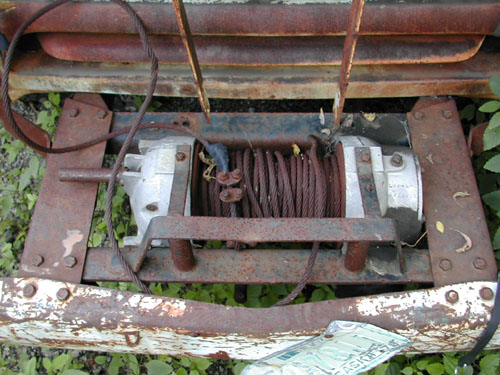 Note the wide frame extensions in comparison to a 61 and never truck. Also the winch extensions on 57-60 W100 and W200 do not have fairlead rollers, as are found on some later trucks. This is on a 58 W100, and from what I can tell is in it's original unmodified form. This truck is also equipped with a factory grill guard, that is what you see in the background.
This is a 1958-1960 W300 LU-2 winch setup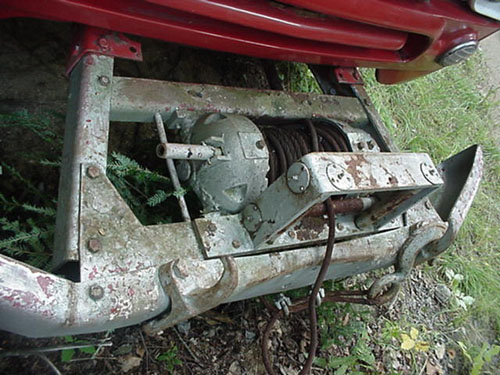 Note how the extensions angle outwards, and the front crossmember is therefore longer than the rear crossmember. The fairlead on this truck is wrong, and while that is the correct factory bumper, it has been bent back for clearance when turning. The hooks on the front of the bumper are used on all the 58-60 W300s I have seen, they are part of the brackets that attach the bumper to the frame extensions.
Speaking of frame extensions, I have heard of 58-60 W300s having the truck's serial number stamped on the frame extensions, instead of the frame.
What numbers help me ID my winch?
Look at the picture below for where to look on your winch for the numbers that ID the winch, look below the red arrow.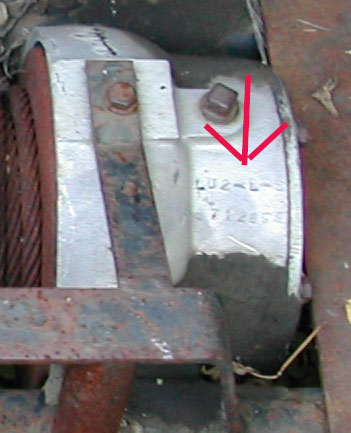 Here is a picture showing the numbers from a 1958 date coded LU-2, on a 1959 W100.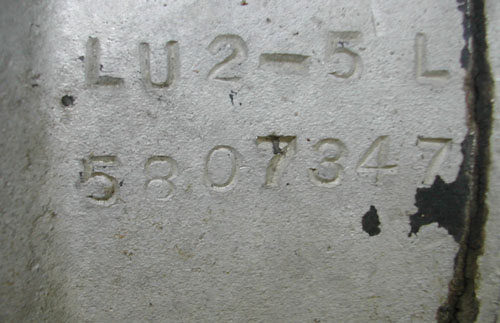 Here is a quick breakdown of the numbers found on a LU-2 as I understand them. I don't have as much information about this as I would like, and therefore if you have anything to add I would be grateful to hear from you!
The breakdown of the top row of numbers:
| | |
| --- | --- |
| L | Lightweight Housing |
| U | Underslung or Low Mount |
| 2 | Model code of the winch |
| 5 | I was told this was the width of the drum, but as all the LU2s I am dealing with have the same drum width, and some say 5, others 18, and still others 33, I doubt this is the case. |
| L | The direction the winches gear is cut, L=Left hand, some (non Dodge application) are labeled R for Right hand. |
The lower Row:
| | |
| --- | --- |
| 58 | This is the date the winch was made, in the 58-60 Dodge trucks, this tends to be one year older then the truck. So this winch is most likely from a 1959 Dodge truck (which in this case it is). |
| 07347 | I do not know what this number means, though I guess it is just a sequential production number. |
From what I have seen, all 57-60 date coded LU2s that came on Dodge trucks were labeled:
LU2-5 L on the top row. Later LU2s used on Dodge trucks seem to get other numbers. 61-67 or so winches on trucks seem to be labled LU2-18 L and 68 up are LU2-33 L. I have seen variations like LU2-L-5, but this is not as common. Throughout the years I have checked I have found all of the LU2s have the same location for year of production.
Here are a few other LU2 numbers to use as reference:
From a 1958 W100, note the numbers are LU2-L-5, not LU2-5 L: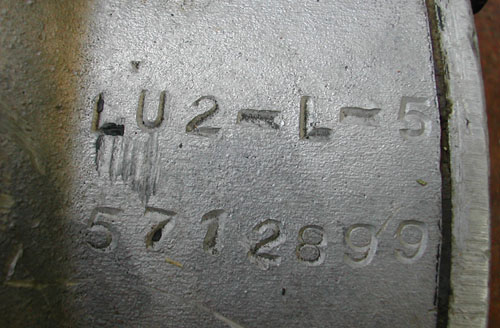 From a 1959 W100: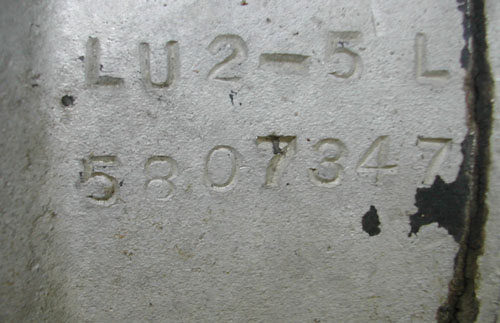 From a 1960 W200, note the numbers are again LU2-L-5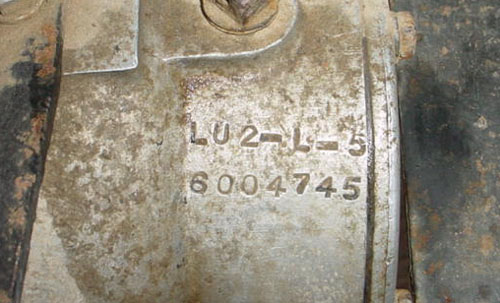 Just for reference, here are some later LU2s:
From a 1965 W100, note how the L is dropped down: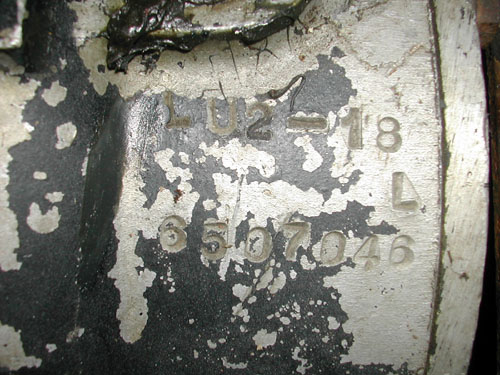 From a 1969 W300, again the dropped L, and note the 33 number: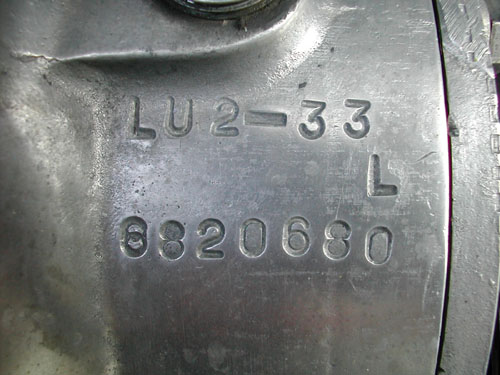 I hope that some of this information is found to be useful. If you have any information to add to this, or feel something needs some more explanation, please let me know!
Back